Green Vacation Homes - Solar, Wind and Renewable Energy Sources and Products
Is solar and wind power really out of touch with cost? Not when it comes to a vacation home that's "off the grid". If you're planning on building a vacation home, you certainly want to look at parcels that don't have access to the electrical grid. Why? Because they're much less expensive, they often include a larger lot, and if you're looking for mountain views, perhaps a soothing and pristine river, or a wilderness experience, you'll save more on the property than buying a conventional lot with power at the street.
A small, mountain view lot in our neck of the woods will cost a minimum of $100K, but more likely, it'll be closer to $200K. Off the grid, a large lot, with mountain views, and everything you'd want for your vacation retreat, could be as little as $70K - $80K. The nearest utility pole could be a half mile away. In order to hook up to that system, it could cost you $25K - $30K. For that amount, you could put in your own wind power or solar powered electric system, and never have an electric bill. There are places where you get an excellent return for your money using renewable energy systems.
Properties like these aren't necessarily out in the boondocks, far away from the places you like to visit on your vacations. They're located wherever there's a back road without power, that developers shunned for that very reason. Maybe they're not thinking ahead, but you certainly can.
Be sure to check out these green home designs, perfect for vacation homes. Many use materials to give them the Energy Star Home rating.
It's becoming increasingly clear that renewable energy resources are not only becoming more necessary, but more affordable and efficient than the fossil fuel based energy sources we've become dependent upon. Solar Power
has made some exceptional progress and will soon be standard within the building industry. Wind Power
is also a viable option.
With satellite TV and cellphones, it's becoming much more convenient off the grid than it ever was. What's great about this is that you can easily make this your vacation home or even your primary home. You'll be more independent than ever.
Radiant Heat
Radiant heat has become an important component in solar heating, and in energy conservation. Due to the low temperature requirements, and the volume of water used to hold heat, radiant heat is considerably more energy efficient than other methods of hot water heating. Radiant heating can be installed in basement slabs, on joists, or in QuickTrak (plywood with an aluminum undersiding with a grid pattern for your pex tubing). Here's a Radiant Heat Learning Center
. PEX Tubing
is a versatile and plyable plastic tubing that's revolutionizing the plumbing industry.
Radiant heat works best in tandem with solar heating systems, due to the lower temperatures required throughout its widespread distribution system. Generally, there are multiple zones that can be adjusted as necessary.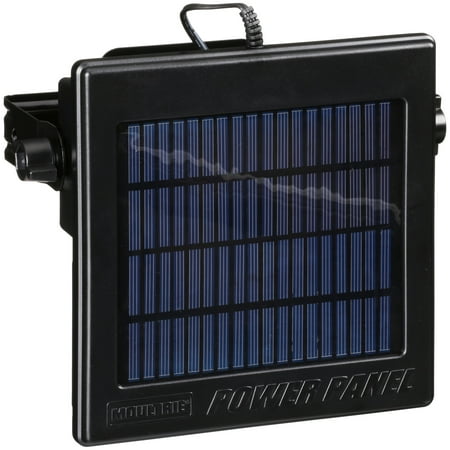 Moultrie Camera Solar Power Panel
$54.80
Compatible with Moultrie 2007 and later game camera modelsExtends game battery life to over 2 yearsOperates using solar panel and 12 volt batteryEasy to read LCD displays solar and internal battery charge in real timeMountable to tree, ground, pole, or tripod, to get the perfect angle to the sun