Dock Components for Your Vacation Home - Build Or Repair A Dock
Maintaining or Building a Dock For Your Vacation Home?
A beautiful dock can be an excellent asset to your vacation home. It's not only where you park the boat. But it can be set up as a patio/deck/dock. It's really a part of your outdoor living space. You can have barbecues on the dock, fish all night, lie in the sun all day. You can even set up a hot tub on or near your dock. The possibilities are endless.
If you're building your first dock, the first thing you want to do is check with your local government and state authorities. Get the proper paperwork in place and the regulations for building docks. Many places will not let you build a dock, others require a permit. Nearly all will have requirements and guidelines for building your dock. If you have an old dock you want to replace, you probably have grandfathered rights. But, you still have to check, and you'll still have to build by the current guidelines of your particular area.
Some factors to consider when building a dock

Erosion
Water levels often vary on a lake, and the higher levels commonly associated with wet seasons can wash the land away under the gangway to your dock. Prevailing winds can worsen or duplicate the impact if your shoreline faces directly into the wind.
Decking
You can use pressure treated wood, aluminum, or Trex, hardwood decking or composite decking, depending on what maintenance you're willing to do. If it's your vacation home, maybe you want to spend more time enjoying yourself, than adding more maintenance.
Resources To Get You Started:

Here's an excellent article on building a dock by Professional Deck Builder Online

How To Build a Dock (web page)

So You're Ready To Build A Dock (web page)

The Dock Manual: Designing, Building, Maintaining (book)

Building & Maintaining Docks: How to Design, Build, Install & Care for Residential Docks (book)
Creativity Has It's Rewards!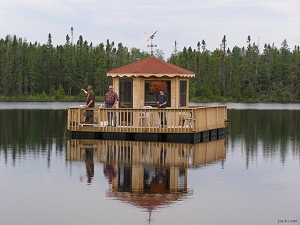 You have to see it to believe it. This guy was building a gazebo and decided to make a boat out of it using dock floats (like those below). For any dock with a cabin on it (walls and a roof), float coverage on the bottom of the deck should be 100%, and the dock floats should be a minimum of 20" in height. He also added a wireless electric motor with Sonar-ready digital wireless with a built-in Lowrance transducer and temp sensor! He's now free to move about the deck, free from interference and free to navigate, using the finest sonar picture you've ever laid eyes on. This motor features a built-in sonar transducer that's optimized for Lowrance units with the versatility to control the boat from anywhere on it. He could sit in a chair, rest his pole on the rail, and steer anywhere he wanted to go. With a gangplank anchored on the shore, you'd have a dock and a boat all in one.